Other Forms of Collaboration
Regional Representative Office
We are interested in collaborating with companies that will represent us in different countries. We offer the opportunity for you to establish your own highly profitable business without additional expenses. All you need is an office where you can meet potential clients. You'll receive approximately 30% of a spread (1 pip) from each deal. That means that every client brings an equal profit for you and us. The rest of the amount is paid to the bank that is used to introduce financial resources in the market. Additionally, you can profit from additional services for your clients by providing analytical materials, functioning as a dealing room, providing education or serving as an exchange office for electronic currencies-so you can potentially increase your profit from referrals by a factor of three to ten times. Your clients get 24-hour technical support and qualified help. Your task is to find clients (and often just to meet them in your office). The client, who has seen our advertisement on the Internet, often wants to visit our office. So, if you're located in the same city as that client, he will definitely come to your office. (Remember, you didn't pay anything for that advertisement!) We don't expect strict loyalty from our partners. You can represent several brokers at the same time and receive profits from all traders.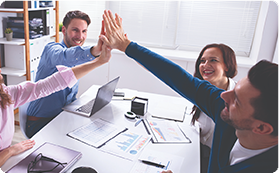 To become our regional representative office, you need:
An office in which to meet clients
A willingness to succeed in business
The Internet channel by which to contact us
To live in the chosen city
White Label
The White Label partnership program is designed for companies and large financial institutions that want to offer the services of entering the world's financial market under their own respective trademarks. You will also need to pay for your trading terminal version, that will be elaborated. This terminal connects to our server. The clients of White Label partners aren't our clients, however. We simply conduct outsourcing on certain questions (by arrangement).
The WL solution has several key advantages:
Quick project startup
The Mobius Trader 7 program and upgrades, free of charge
The opportunity to establish your own scheme for receiving rewards
Privacy of client information
The opportunity to go with your clients into "free-floating"